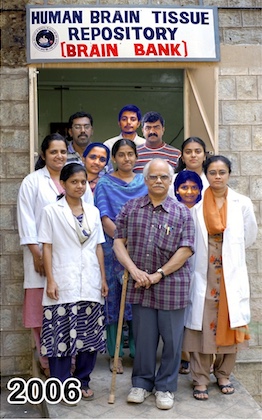 Permanent Staff
Data Entry Operator – 1
Junior Technician – 1
Hospital Assistant – 1
Mortuary Assistant – 1
Staff on Contract
HBTR Contract Staff
Junior Scientific Officer – 2
Multi Tasking Staff – 1
ICMR-DHR Centre for Advanced Research Project
Histopathology Technician – 1
Data Entry Operator – 1
Laboratory Attendant – 1
Scientist D – 1
Scientist B – 1 (resigned)
Staff (included a Senior Scientific Officer, Junior Scientific Assistant, Data entry operator, Mortuary assistant) were appointed and maintained.
The Brain Bank is a highly specialized National facility requiring great degree of motivation, commitment and technical competency. The staff cannot be rotated from the general pool to avoid interruption of work schedules and standard operating protocols. As the human Brain Bank at NIMHANS is the only National Research Facility which has been functioning successfully from 1995, it's essential that we create conducive environment to avoid transfer or turnover of staff. It is essential to treat them as specialized technical personnel so that they have pride in the work and maintain the high standards expected. The scientific level of work carried out by the scientists using the Facility depends on the commitment and technical competency of the staff. For the Brain Bank to function, round the clock autopsy service with participation of Mortuary Technician/Attendant and laboratory attainder is absolutely essential. The autopsy procedure usually takes 2 hours and the processing and freezing the tissue takes two more hours. Optimally the brain tissue is to be collected within 8-10hrs after death though it can be used uptil 24hrs. This necessitates ready availability of permanent trained technical staff.
It is essential to take a policy decision by the Institute to maintain the National Facility of high standard and provide secure jobs o the staff so that high level of motivation can be maintained. Appointing the staff on contract basis and renewing once in six months to one year is detrimental to technical competency, and smooth functioning of the Brain bank.  The staff needs to be provided medical facilities as provided to the permanent staff as they are handling and working with highly infective and bio-hazardous material.